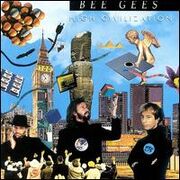 High Civilization is the Bee Gees' seventeenth original album, released in 1991. It was their last album recorded for Warner Bros. Records, after a four-year contract. Possibly in reaction to firm resistance from U.S. radio to the previous two albums, E.S.P. which had done well in other countries, the US-based Warner Bros gave this one less promotion and did not issue remixes. Engineered by Femi Jiya, High Civilization found a new change for the Bee Gees sound, with heavier use of drum programming and electronic effects, making a relatively cool production. Highlights from the album included the first single, Secret Love, an up-tempo ballad, which was a Top 5 hit in the UK, When He's Gone, a heavier pop song, issued as the album's second single, and the sentimental ballad The Only Love, released as the third and final single from the album. The soft ballad Happy Ever After was also a cassette-only single released.
While it did not chart in the U.S., it reached #6 in Switzerland, #2 in Germany, #24 in the UK and sold 1.1 million copies worldwide.
Track listing
[
]
"

High Civilization

" – 5:31
"

Secret Love

" – 3:42
"

When He's Gone

" – 5:59
"

Happy Ever After

" – 6:17
"Party with No Name" – 4:56
"Ghost Train" – 6:04
"Dimensions " – 5:28
"

The Only Love

" – 5:36
"Human Sacrifice" – 5:42
"True Confessions" – 5:16
"Evolution" – 5:37
All compositions by Barry, Robin and Maurice Gibb.
The Only Love was written with a view to being covered. The Bee Gees offered the song to Bryan Adams, though he declined their offer.
Personnel
[
]
Bee Gees
Barry Gibb – lead and harmony vocals, guitar
Robin Gibb – lead and harmony vocals
Maurice Gibb – backing vocals, keyboards, synthesizer, guitars, lead vocals on "Dimensions"
Additional personnel
Alan Kendall – guitar
Tim Cansfield - guitar
Mike Murphy - drums
Trevor Murrell - drums
Scott F. Crago - drums ("When He's Gone", "The Only Love") [uncredited]
Tim Moore – keyboards, synthesizer, programmer
George "Chocolate" Perry – bass guitar
Lenny Castro – percussion
Julia and Maxine Waters – backing vocals and percussion