Idea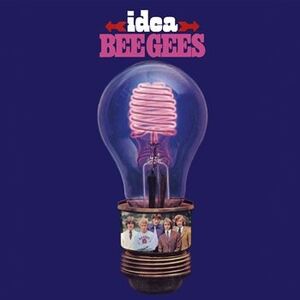 Details

Album Type

Released

September 1968

Recorded

November 1967 - July 12, 1968 at IBC Studios

Length

36:11

Label

Producer
V

-

E

-

T

-

D
Idea is the Bee Gees' third album on the ATCO label, released in August, 1968. The album sold over 1,000,000 copies worldwide. This album features "Such a Shame", the only Bee Gees song where lead vocals aren't sung by (nor written by) a Gibb brother. "Such A Shame" was included on the British version of the album but deleted from the American issue, which in turn included their recent hit "I've Gotta Get a Message to You," not on the UK LP. When the album was issued on CD in the 1980s, both tracks were included.
In 2006, Reprise Records reissued Idea (using the European cover) with both stereo and mono mixes on one disc and a bonus disc of unreleased songs, non-album tracks, and alternate mixes.
Track listing
[
]
"Let There Be Love" – 3:32
"

Kitty Can

" – 2:39
"In The Summer of His Years" – 3:10
"Indian Gin and Whisky Dry" – 2:01
"Down to Earth" – 2:32
"Such a Shame" – 2:28 (Vince Melouney)
"I've Gotta Get a Message to You" – 2:56
"Idea" – 2:51
"When the Swallows Fly" – 2:32
"I've Decided to Join the Air Force" – 2:11
"I Started A Joke" – 3:08
"Kilburn Towers" – 2:19
"Swan Song" – 2:58

Bonus Disc for 2006 Reissue
All songs marked with an asterisk (*) were previously unissued.
"Chocolate Symphony"*
"I've Gotta Get a Message to You" Mono Single Version
"

Jumbo

"
"

The Singer Sang His Song

"
"Bridges Crossing Rivers"*
"Idea" Alternate Mix*
"Completely Unoriginal"*
"Kitty Can" Alternate Mix*
"Come Some Christmas Eve or Halloween"*
"Let There Be Love" Alternate Mix*
"Gena's Theme"
"Another Cold and Windy Day" Coke Spot #1*
"Sitting in the Meadow" Coke Spot #2*
All compositions by Barry, Robin & Maurice Gibb except as indicated.
Personnel
[
]