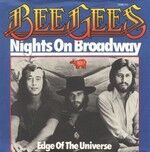 "Nights on Broadway" is a song written by the Bee Gees for the Main Course album in 1975. The second single release from the album, it immediately followed their #1 hit "Jive Talkin'".
"Nights on Broadway", although not reaching the chart heights of its predecessor, introduced Barry Gibb's falsetto voice in the chorus. It was a turning point in Bee Gees style, as they progressed through their disco era writing songs mostly sung in falsetto by Barry. He did not know of his special "talent" until producer Arif Mardin asked someone within the group to try to do some kind of screaming during the main chorus. Barry had done some unsuccessful falsetto in songs like "Melody Fair" from the Odessa album. He gave it a try, and as a result this legendary falsetto became a hallmark of the Bee Gees sound.
"Nights on Broadway" reached #7 on the US Billboard charts, giving the Bee Gees back-to-back top 10 hits for the first time in seven years (since 1968).
Jimmy Fallon and Justin Timberlake played Barry and Robin Gibb, respectively, in three Saturday Night Live sketches, entitled "The Barry Gibb Talk Show." The show's theme song contained the same melody, and even some of the lyrics, as this song.