Odessa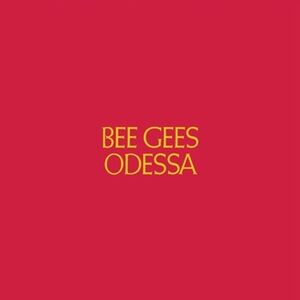 Details

Album Type

Studio Album

Released

January 1969

Recorded

July 12 to October 1968 at IBC Studios in London and Atlantic Recording Studios in New York

Length

63:47

Label

Polydor

Producer

The Bee Gees, Robert Stigwood
V

-

E

-

T

-

D
Odessa is the Bee Gees' fourth album, released as a double LP in 1969.
During the recording of the album, guitarist Vince Melouney left the group amicably wanting to pursue a more bluesy direction. Prior to release there were disagreements over which song was to be released as a single (the Robin-led Lamplight lost out to First of May, a Barry solo vocal). This led to Robin Gibb leaving the group in 1969,[1] though he would rejoin in late 1970.
Odessa was initially released in a flocked cover with gold lettering. Due to allergic reactions among workers during assembly, this design was discontinued.[2]
Rhino Records re-released the album in a remastered edition in February 2009 as a three-disc box set. The first two discs contained the stereo and mono editions respectively while the third was a collection of demos and previously unissued tracks entitled Sketches for Odessa.
Track listing
Edit
All compositions by Barry, Robin and Maurice Gibb.
"Odessa (City on the Black Sea)" – 7:33
"You'll Never See My Face Again" – 4:17
"Black Diamond" – 3:29
"Marley Purt Drive" – 4:26
"Edison" – 3:06
"Melody Fair" – 3:50
"Suddenly" – 2:30
"Whisper Whisper" – 3:25
"Lamplight" – 4:47
"Sound of Love" – 3:29
"Give Your Best" – 3:28
"Seven Seas Symphony" – 4:10
"With All Nations (International Anthem)" – 1:47
"I Laugh in Your Face" – 4:10
"Never Say Never Again" – 3:29
"First of May" – 2:50
"The British Opera" – 3:16
Notes: A single LP reissue in the mid 70's deleted tracks 3, 5, 7, 8, 9, 12, and 17. Early CD and cassette editions omitted the track "With All Nations (International Anthem)".
Sketches for Odessa
Edit
Odessa (Demo)
You'll Never See My Face Again" (Alternate Mix)
Black Diamond (Demo)
Marley Purt Drive (Alternate Mix)
Barbara Came To Stay (early version of Edison)
Edison (Alternate Mix)
Melody Fair (Demo)
Melody Fair (Alternate Mix)
Suddenly (Alternate Mix)
Whisper Whisper – Part Two (Alternate Version)
Lamplight (Demo)
Lamplight (Alternate Version)
Sound of Love (Alternate Mix)
Give Your Best (Alternate Mix)
Seven Seas Symphony (Demo)
With All Nations (International Anthem) (Vocal Version)
I Laugh in Your Face (Alternate Mix)
Never Say Never Again (Alternate Mix)
First of May (Demo)
First of May (Alternate Mix)
Nobody's Someone
Pity
Personnel
Edit
Bee Gees
Guest musicians and production
Cite error: <ref> tags exist, but no <references/> tag was found