This page is about the album. For the song, see: Spicks and Specks (song)
Spicks and Specks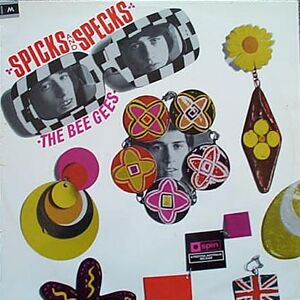 Details

Album Type

Studio Album

Released

November 1965

Recorded

Australia

Length

28:11

Label

Spin EL 32031

Producer

Nat Kipner and Ossie Byrne
V

-

E

-

T

-

D
Spicks and Specks is the Bee Gees second album. It was released in Australia 1966. Their subsequent tour took the Bee Gees to the salubrious heights of the Kyamba Smith Hall at Wagga Wagga Showground in country New South Wales, where such stars as Billy Thorpe and the Aztecs and The Easybeats also performed.
Track listing
Side 1
"Monday's Rain"
"How Many Birds"
"Playdown"
"Second Hand People"
"I Don't Know Why I Bother with Myself"
"Big Chance"
Side 2
"Jingle Jangle"
"Tint of Blue"
"Where Are You"
"Born a Man"
"Glass House"
Personnel
Bee Gees
Guest and additional musicians
Geoff Grant

- trumpet

Ossie Byrne

- sound engineer